May 2018 Gaza Massacre: Is UN Upholding International Law?
---

UN Photo/Elma Okic – The Human Rights Council chamber in Geneva.
The UN Human Rights Commission says the "disproportionate and indiscriminate use of force by the Israeli occupying forces against Palestinian civilians" requires a full investigation.
by Sharon Santiago & Melissa Hemingway,  Feminine Perspective Staff
Background reading:
Friday May 18: Emergency Session of UNHRC will send war crimes probe to Gaza
At a special session of the United Nations Human Rights Council convened on Friday in response to the May 2018 Gaza Massacre the UN High Commissioner for Human Rights, Zeid Ra'ad Al Hussein,  spoke of Palestinians living in Gaza as "caged in a toxic slum from birth to death; deprived of dignity; dehumanized by the Israeli authorities to such a point it appears officials do not even consider that these men and women have a right, as well as every reason, to protest."
He said Israeli soldiers killed 106 Palestinians, including 15 children, since March 30. More than 12,000 were injured, at least 3,500 by live ammunition. Israel was an occupying power under international law, obliged to protect the people of Gaza and ensure their welfare, he said.
The United States which has supported the Israeli massacre of Palestinians on May 14 pommeled representatives to the UNHRC until 14 countries abstained including Germany, Japan, South Korea and the United Kingdom.  Voting in favor of the decision were 29 states with two against. Australia and the US were the two countries to vote against the decision.
Canada, which has no vote, spoke against the decision and shamed itself saying that the UN Human Rights Council was too biased against the human rights offender, Israel. Rosemary McCarney, Canada's permanent representative to the United Nations in Geneva used the same logic ("[Canada can't support the resolution because] "the resolution singles out Israel") that has kept this conflict running for 70 years. More than that, the Canadian government betrayed Canadians who were shot during the May 2018 Gaza Massacre.
Israeli ambassador to the UN in Geneva, Aviva Raz Shechter, criticized the special session Friday, saying it was "politically motivated and won't improve the situation on the ground by even one iota."
She is probably right about both allegations. Her country's government can make sure of that. But the war crimes investigation which may take as long as a year, may do more than just rattle the ambassador. The one thing she missed which the Human Rights Commissioner has been slamming with a figurative hammer, is the human rights of the two million people in Gaza. Hamas is equally guilty.
The foolish Canadian and the anger-blinded Israeli both completely miss the reality that the HUMAN RIGHTS Commissioner is a quintessential defender of human rights and is doing his job zealously defending the rights of all people and thereby advancing the cause of human development with sustainable action to protect human rights. Yes there is a bias. (The bias is in favour of human rights. What's yours?)
"The unfortunate outcome of Monday's riots can only be attributed to Hamas's cynical exploitation of its own population, in a violent campaign against Israel," she said.
Aviva Raz Shechter brings a moot point to the discussion demonstrating more of the volatility of both Israeli and Hamas leadership bickering across a fence without a single care for the abused populations for which they are both responsible. It is no less true that Hamas' conduct is exploitive of the people it should be helping instead of pushing vulnerable, unarmed civilians into harm's way.
We and civil society are concerned about the people, not the politicians.
Nevertheless, as discussed below, The RINJ Foundation in a careful study of Gaza and other Palestine territories concluded in 2017 that Hamas and the Palestine Authority significantly exploit Palestine women and children. It is no less true the Israeli side is not justified to maim or kill these vulnerable, exploited people.
The unmitigated drivel of Canada, Israel, America and Australia in their de facto support of the Israeli May 2018 Gaza Massacre is the same disingenuous weazling, waffling,  piffel that has kept this ugly conflict alive for 70 years.
18 May Turkey's Recep Erdogan Hosts OIC Conference on Gaza
A peaceful rally came hours ahead of an extraordinary summit meeting of the Organisation of Islamic Cooperation (OIC) also called by Erdogan to denounce Israel's actions and the moving of the US embassy for Israel from Tel Aviv to Jerusalem.
The OIC's urgings are quite profound but sensible and should have been heard from the outset but the dysfunctional UN Security Council  (UNSC) (dysfunctional because of its veto-powered five permanent members) failed the General Assembly of members miserably.
The OIC called for upholding the UNSC's legal obligations to defend the international law and order as they relate to Palestine and to put an end to these atrocities, and to provide international protection for the Palestinian people.
The OIC said in its final communique that it wants international protection of the Palestinian population, including dispatching an international protection force.

Crowds attend a peaceful protest rally in Istanbul on May 18, 2018. PHOTO: AFP
14 May UN Palestinian Rights Committee Statement Sums up the Latest Issue in Gaza Strip
The United Nations General Assembly's Committee on the Exercise of the Inalienable Rights of the Palestinian People condemns the excessive and disproportionate use of force by Israeli security forces against peaceful Palestinian demonstrators at the Gaza fence with Israel, in the context of the "Great March of Return", which today alone resulted in the killing of 55 Palestinians and 2,771 injured.  Since 30 March, the start of the six‑week campaign by Palestinians calling for their right of return in accordance with General Assembly resolution 194 (III) and the right to exercise their inalienable rights of self‑determination and independence, Israeli security forces have killed 110 and injured 12,271 Palestinians.
Civil society women's Group Offered 3-Point Solution
 The RINJ Foundation Women, a Civil Society women's group based in Toronto, Ontario Canada has released several criticisms of Israel related to what the group calls the wrongful imprisonment of the sixteen-year-old Palestinian girl Ahed Tamimi.
The group's findings clearly indicate that the Palestine and Hamas leaderships are criminally exploiting vulnerable women and children to the point of their morbid endangerment. Repeatedly the risk is realized with casualties imposed on the population. Thus women and children in Palestine territories are unsafe.
The RINJ group also claims it has learned about a silent edict which has been issued to Israeli Occupation Forces in the Israeli occupied Palestinian settlements of the West Bank to conduct reprisals on women and children for the ongoing demonstrations against Donald Trump's announcement that the US is declaring Jerusalem as the Capital of Israel and moving its embassy there.
In a report published by The RINJ Foundation from the Middle East the women's group says "this child has not committed a crime. She has acted in self defence by slapping a trespassing soldier at her home, in his face, pursuant to numerous and continuing attacks and harassment on herself and her family including younger siblings. She has the right to resist the occupation soldiers invading her home, especially when they are there for wrongful purpose. Read the Geneva Convention amendments. She has the right to do that."
Long ago, it was settled that resistance and even armed struggle against a colonial occupation force is not just recognised under international law but specifically endorsed.

In accordance with international humanitarian law, wars of national liberation have been expressly embraced, through the adoption of Additional Protocol I (Volume 1125) to the Geneva Conventions of 1949 (pdf), as a protected and essential right of occupied people everywhere.  – Stanley L. Cohen 
Israel Must Cease its Targeting of Women and Kids for Reprisals against Peaceful Demonstrations
---
Power corrupts and absolute power corrupts absolutely.
The nation state of Israel has absolute power over the Palestinians since 1967. In recent years, if not for longer, it has come to abuse its power over the Palestinians systemically and with an apparent air of impunity.
Friends of Israel must warn the State that it has gone too far in targeting women and children for abuse. Instructing soldiers to shoot their live ammunition at the legs of demonstrators, killing thirty women and over fifteen children since March 30 is a crime for which Israeli's who are responsible must pay in prison time.
---
The World Ignored Israel's Brutal Occupation of Palestine
In the West, journalists and politicians have dismissed Palestinian claims of human rights abuses in the Israeli Occupied Territories, for decades. Today these people have a UN Human Rights Commissioner who is fighting for their safety.
Feminine Perspective last week blamed the US and Israel then pulled back and urged for an independent investigation into the May 2018 Gaza Massacre. A small few others did that as well to the chagrin of the United States, many of America's trading partners, and of course Israel.
Evaluating decades of suffering by Palestine women and children, The RINJ Foundation advanced as a civil society women's group that Women and Children are not safe in Gaza. There is an enormous amount of concurrence to that finding.
UN High Commissioner for Human Rights Zeid Ra'ad Al Hussein said Friday in Geneva that Palestinians are 'caged in a toxic slum' in Gaza.
The Feminine Perspective:
1. Abusing Palestinians is accepted Israeli way of life.
2. America, from the President down hates Muslims and manipulates Israeli government policy in that channel.
3. The Palestinians have a one track methodology these past seventy years: bloody revolt.
Hence, those persons found to be responsible with probable cause, on any and all sides, for the May 2018 Gaza Massacre should be indicted.
---
In the Event of May 14, over 60 persons Died & 2,700 were Injured says the Gaza Health Department
---
You might think that calling this crisis a  May 2018 Gaza Massacre assumes a conclusion. It doesn't. We were there. This was a massacre for which my God damned its perpetrators with a deep-looking UN investigation. Prayers from around the world must have been, "make this stop".
Since the Palestinian demonstrations began March 30, more than 110 Palestinians were killed and more than 2,500 wounded by live military gun fire, according to the Gaza Health Ministry. Palestinian officials claim most of the casualties have been unarmed protesters. One Israeli soldier has been wounded.
On May 14, Palestine Authorities estimate that some 40,000 Palestinians took part in the demonstrations because this was the day that Donald Trump invoked the 1995 congressional Jerusalem Act and in a technicality (The actual 'embassy' remains in Tel Aviv and will take years to move.)  transferred the US Embassy to Jerusalem. Then began the May 2018 Gaza Massacre.
The Israeli military used live NATO standard ammunition and shot the legs of thousands of Palestinians, under orders. IDF soldiers who will not be named told me exactly that. They were under orders.
Take a Look at Gaza Strip Conditions
Do you know Gaza? It's a human dump of the unwanted. The Gaza Strip is  a 365 square kilometre concentration camp surrounded by razor wire housing 2 million people. It is a nightmare for human rights workers and the most crowded and uninhabitable place next to America's Guantanamo Bay.
Look at Recent developments in Gaza
17 May 2018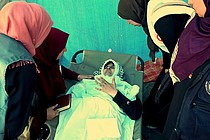 The Humanitarian Coordinator, Mr. Jamie McGoldrick, today called for urgent support to meet the humanitarian needs of victims of violence in Gaza. "The situation in Gaza is devastating and the crisis is far from over," said Mr. McGoldrick. "For every person killed and injured this week and those before, there is a family and a network of friends affected," he continued. "For many, especially those who lost a loved one, who will now suffer a permanent disability or who will need intensive rehabilitation, the impacts of recent violence will be felt for months and years to come."
13 May 2018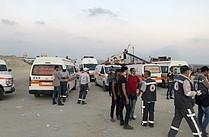 The Humanitarian Coordinator, Mr. Jamie McGoldrick, today called for the protection of Palestinians, particularly children and health workers, in the context of demonstrations taking place in the occupied Palestinian territory (oPt) and for demonstrators to refrain from actions that prevent the functioning of the main entry point for humanitarian goods to the Gaza Strip.
26 April 2018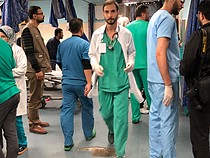 Today, the Humanitarian Fund for the occupied Palestinian territory (oPt HF) announced the release of US$ 2.2 million to address urgent humanitarian needs resulting from the massive rise in Palestinian casualties in the Gaza Strip.
19 April 2018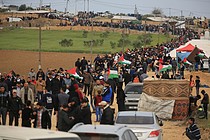 The Humanitarian Coordinator, Mr. Jamie McGoldrick, today called for the protection of Palestinian demonstrators and for urgent funding to meet critical humanitarian needs that have been generated by the massive rise in Palestinian casualties in Gaza since 30 March
18 April 2018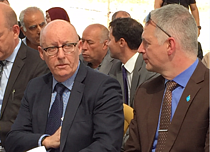 Today, the Humanitarian Coordinator, Mr. Jamie McGoldrick, and the UNRWA Director of Operations in the West Bank, Mr. Scott Anderson, joined Palestinian officials in a visit to the Palestinian Bedouin community of Khan al Ahmar-Abu al Helu, on the outskirts of East Jerusalem in the occupied Palestinian territory.
14 March 2018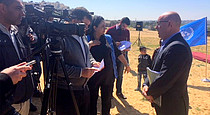 Joint press release, Gaza: Today, the Minister of Social Development of the State of Palestine, H.E. Dr. Ibrahim Al-Shaer, and the Humanitarian Coordinator, Mr. Jamie McGoldrick, launched the Humanitarian Response Plan (HRP) for 2018, to support the humanitarian needs of 1.9 million Palestinians in the occupied Palestinian territory (oPt).
14 March 2018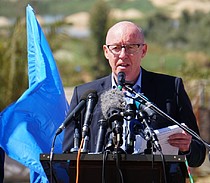 Delivered at press conference in Beit Lahiya, North Gaza, 14 March 2018: "Good afternoon. Members of the media, donors, national partners; thank you for coming. Today, I am pleased to be in Gaza for the launch of the Humanitarian Response Plan (HRP) for 2018, which took place earlier today at an event with the donor community, where I was joined by the Minister of Social Development of the State of Palestine, H.E. Dr. Ibrahim Al-Shaer, by video link from Ramallah. I am also pleased to be joined today by colleagues from UNRWA and the UN agencies and NGOs that are leading the humanitarian response in the oPt."
20 February 2018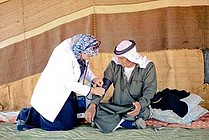 Today, the Humanitarian Fund for the occupied Palestinian territory (oPt HF) released approximately US $900,000 for health and food support over the next six months to around 140,000 Palestinians, almost half of them children, in dozens of West Bank communities, including in East Jerusalem
6 February 2018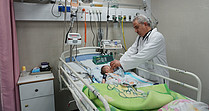 Funding is desperately needed for emergency fuel: Emergency fuel for critical facilities in Gaza will become exhausted within the next ten days, the United Nations warned today, noting an urgent need for donor support to avoid a humanitarian catastrophe driven by the energy crisis.
4 February 2018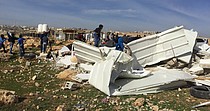 I am deeply concerned by the Israeli authorities' demolition this morning of two donor-funded classrooms (3rd and 4th grade), serving 26 Palestinian school children in the Bedouin and refugee community of Abu Nuwar, located in Area C on the outskirts of Jerusalem. The demolition was carried out on grounds of lack of Israeli-issued permits, which are nearly impossible to obtain.
---
Special Session of the Human Rights Council on the deteriorating human rights situation in the Occupied Palestinian Territory, including East Jerusalem
---
18 May 2018 Statement by UN High Commissioner for Human Rights Zeid Ra'ad Al Hussein
Mr. President,
Appalling recent events in Gaza have called this Council into Special Session. Since the protests began on 30 March, 87 Palestinians have been killed by the Israeli security forces in the context of the demonstrations, including 12 children; 29 others, including three children, were killed in other circumstances. And over 12,000 people have been injured, more than 3,500 of them by live ammunition.
The violence reached a peak on Monday 14 May, when 43 demonstrators were killed by Israeli forces – and the number sadly continues to climb, as some of the 1,360 demonstrators injured with live ammunition that day succumb to their wounds. These people, many of whom were completely unarmed, were shot in the back, in the chest, in the head and limbs with live ammunition, as well as rubber-coated steel bullets and tear-gas canisters. Israeli forces also killed a further 17 Palestinians outside the context of the five demonstration hot spots. Together, this figure of 60 is the highest one-day death toll in Gaza since the 2014 hostilities.
This was not "a PR victory for Hamas", in the reported words of a senior Israeli military spokesman; it was a tragedy for thousands of families. The Israeli Prime Minister, Benjamin Netanyahu, has also described the demonstrators as being "paid by Hamas", and has said the Israeli security forces "try to minimize casualties". But there is little evidence of any attempt to minimize casualties on Monday. Although some of the demonstrators threw Molotov cocktails, used sling-shots to throw stones, flew burning kites into Israel, and attempted to use wire-cutters against the two fences between Gaza and Israel, these actions alone do not appear to constitute the imminent threat to life or deadly injury which could justify the use of lethal force.
The stark contrast in casualties on both sides is also suggestive of a wholly disproportionate response: on Monday, on the Israeli side, one soldier was reportedly wounded, slightly, by a stone. Killings resulting from the unlawful use of force by an occupying power may also constitute "wilful killings" – a grave breach of the Fourth Geneva Convention.
Palestinians have exactly the same human rights as Israelis do. They have the same rights to live safely in their homes, in freedom, with adequate and essential services and opportunities. And of this essential core of entitlements due to every human being, they are systematically deprived.
All of the 1.9 million people who live in Gaza have been penned in behind fences and have suffered progressively more restrictions and greater poverty. After 11 years of blockade by Israel they have little hope of employment, and their infrastructure is crumbling, with an electricity crisis, inadequate health services and a decaying sewage system that constitutes a threat to health. They are forced to seek exit permits from Israel for any reason, including for specialised health care, and many of those permits are denied or delayed – including permits for the majority of the demonstrators shot by Israeli security forces this week.
Israel, as an occupying power under international law, is obligated to protect the population of Gaza and ensure their welfare. But they are, in essence, caged in a toxic slum from birth to death; deprived of dignity; dehumanised by the Israeli authorities to such a point it appears officials do not even consider that these men and women have a right, as well as every reason, to protest.
Mr President,
Nobody has been made safer by the horrific events of the past week.
The human rights situation in the occupied Palestinian territory continues to deteriorate. Settlement building continues, and settler violence has again been rising this year. Demolitions of private property continue, including punitive demolitions, which constitute a deplorable form of collective punishment. The small Bedouin community of Khan al Ahmar, just east of Jerusalem, is at high risk of forcible transfer. This week, the villages of Beita and Nabi Saleh were subjected to closures and restrictions on movement following clashes with the Israeli forces. Israel also continues to detain large numbers of Palestinians, including children, although under international law the detention of a child must be a measure of last resort. I also deplore the widespread and unprincipled use of detention without trial – described as "administrative detention" – and violations of fundamental fair trial guarantees. And the deficit in accountability for alleged extrajudicial killings and other violations, as previously reported by the Secretary General and my Office1, undermines confidence in Israeli justice.
I therefore endorse calls made by many States and observers for an investigation that is international, independent and impartial – in the hope the truth regarding these matters will lead to justice.
Those responsible for violations must in the end be held accountable. In this context, as in all conflicts where impunity is widespread, unless ended by a peace settlement, excessive violence – both horrifying and criminal – flows easily from the barrel of a gun; becomes normal, destroying the occupied perhaps, but something crucial too in the occupier. What do you become when you shoot to kill someone who is unarmed, and not an immediate threat to you? You are neither brave, nor a hero. You have become someone very different to that.
And then there is the fear and hatred – those dreadful twins, prolific in the manufacturing of violence and human suffering, now transforming into a psychosis, on both sides, more tightly spun, and more corrosive. And to what end? So we will all be destroyed?
The occupation must end, so the people of Palestine can be liberated, and the people of Israel liberated from it. End the occupation, and the violence and insecurity will largely disappear.
I urge Israel to act in accordance with its international obligations. Palestinians' right to life, their right to security of the person and rights to freedom of assembly and expression must be respected and protected. All individuals' right to health must be respected and protected, regardless of the context in which they may have been injured. The rules of engagement for Israel's security forces must be in line with Israel's international obligations, and I urge that they be published.Children should never be the targets of violence and must not be put at risk of violence or encouraged to participate in violence. I again remind all concerned that lethal force may only be used in cases of extreme necessity, as a last resort, in response to an imminent threat of death or risk of serious injury.
---
Who will fix this "International Law"mess, one of many around the world? UN Secretary-General António Guterres in His own words:
---
May 17, 2018 – Unity of Security Council Crucial in Preventing Human Suffering, Defending 'Our Common Humanity', Secretary-General Stresses during Open Debate
Following are UN Secretary-General António Guterres' remarks, delivered by Chef de Cabinet Maria Luiza Ribeiro Viotti, to the Security Council open debate "Upholding international law within the context of the maintenance of international peace and security", in New York on Thursday.
I thank the Government of Poland for organizing this important debate on the role of the Security Council in upholding international law.
International law is foundational to this organization and the Security Council has a special role to play in ensuring that it is respected.  I welcome Poland's suggestion that today's debate pay special attention to promoting the peaceful settlement of disputes and the Council's involvement in that process.
The Charter of the United Nations does not prescribe the use of any particular means of settlement for disputes between Member States, nor does it establish any particular hierarchy among them.  Member States are free to choose between negotiation, enquiry, mediation, conciliation, arbitration, judicial settlement, resort to regional agencies or arrangements, or other peaceful means of their choice.
The Security Council, for its part, has many options.  It can call on States to settle their disputes and draw their attention to the means that are available to them.  It can recommend to States that they use a particular means of settlement — a power the Council has rarely employed.  The Council can support States in using the means they have chosen.  It can support the initiatives of States and other international organizations, institutions or people that try to assist States in resolving their differences.
The Council can also task the Secretary-General to try to assist States to reach a settlement, or even establish a subsidiary organ for that purpose — again, a power that, since its early years, it has not often employed.  And where States have agreed to use the International Court of Justice, there is a role the Council may play in ensuring that the Court's judgment is properly observed.  Allow me to use this opportunity to call on Member States to consider accepting the Court's compulsory jurisdiction.
Let me turn now to another issue of relevance to today's discussion: accountability for international crimes.  Through its resolutions establishing the International Tribunals for the former Yugoslavia, in 1993, and for Rwanda, in 1994, the Security Council has had an undeniable impact on international law.  The two tribunals have laid the groundwork for the development of international criminal law — a field that barely existed before.  At the same time, the Council advanced the interpretation of the Charter and of its own functions, acknowledging the close link between international criminal justice and the purposes of the United Nations.  The advancement of international criminal justice therefore falls within the scope of the Security Council's responsibility for the maintenance of international peace and security.
The Security Council was also involved in the establishment of the Special Court for Sierra Leone and the Special Tribunal for Lebanon.  But the Security Council's role in the fight against impunity has gone beyond creating tribunals.  In the Central African Republic, it mandated the United Nations peacekeeping operation, MINUSCA, to support the Special Criminal Court, a national court established by national law.  The Council has also requested the Secretariat to work closely with the African Union Commission in support of efforts to establish the Hybrid Court for South Sudan.
Moreover, in those cases where it is difficult to foresee the establishment of effective accountability mechanisms in the immediate future, there is increasing momentum for gathering and securing evidence for use in national, regional or international courts that may in the future have jurisdiction over relevant crimes.  In the case of Iraq, the Council unanimously adopted resolution 2379 (2017), which established an independent investigative team to support domestic efforts to hold Da'esh accountable for its actions in Iraq.  The Secretariat has been working closely with the Government of Iraq and other key stakeholders to operationalize this important mechanism.
International criminal accountability is still a relatively new area of work for the United Nations, but it is already clear that there is room for improvements in three specific areas.  First, the Security Council needs to be the driving force to ensure that international humanitarian law, international human rights law and other relevant rules, norms and standards are fully included in any accountability process.
Second, these institutions need sustainable funding.  Yet even as the international community considers creating new institutions, funding for some of the existing hybrid institutions has largely dried up, putting at risk gains of judicial efforts.  Third, effective accountability requires the constructive engagement of the international community.  I encourage Member States to engage with the Secretariat during the process of establishing or supporting accountability mechanisms to help ensure that the framework for the establishment of any mechanism conform with applicable United Nations standards and policies.
The Security Council has played a critical role in upholding international law, supporting the peaceful settlement of disputes and advancing the fight against impunity.  Against a backdrop of grave threats and growing turmoil in many regions, the unity of this body and the serious commitment of the entire international community will be crucial in preventing human suffering and defending our common humanity.  The Secretariat stands ready to support these efforts.